30day Money back Guarantee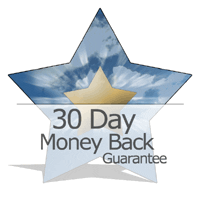 We are so confident in your complete satisfaction, that we are offering an unconditional 30 day money back guarantee.
If for some reason you are not completely satisfied, you may cancel your account within thirty (30) days of the submission of your Application Form and receive a full refund.
All cancellation requests must be in writing and initiated by the primary contact person for the account who shall provide sufficient identification.
Any cancellation request shall be effective upon receipt.

Note to Customers participating in the free domain offer.
The 30 Day money back Guarantee does not apply to accounts participating in the free domain offer. Hosting fees will be refunded minus the setup fee.
If you are in violation of our
Terms of Service
your account will not be refunded. Infringements such as spam & server abuse will result in your account being terminated without notice.
Return to Previous Page | Sign up for an Account